Streamline quote-to-invoice processes and improve operational planning with SYSPRO ERP
Best-in-Class Engineering to Order ERP
If you operate in an Engineer To Order (ETO) manufacturing environment, you know how expensive delays can be. Small variances can have big impacts. How can you find ways to increase profitability and cash flow for individual projects, while making it easier for customers to collaborate on high-quality, custom-built goods?
It's not easy for ETO manufacturers because your products are often complex and no two orders are the same. That's why accurate forecasting on costs and timelines is particularly critical to your financial performance – and why you need 360-degree visibility across your operations.
Discover how SYSPRO Enterprise Resource Planning (ERP) software provides the insight engineer to order manufacturers need to streamline quote-to-invoice processes, improve operational planning and take the complexity out of financial management.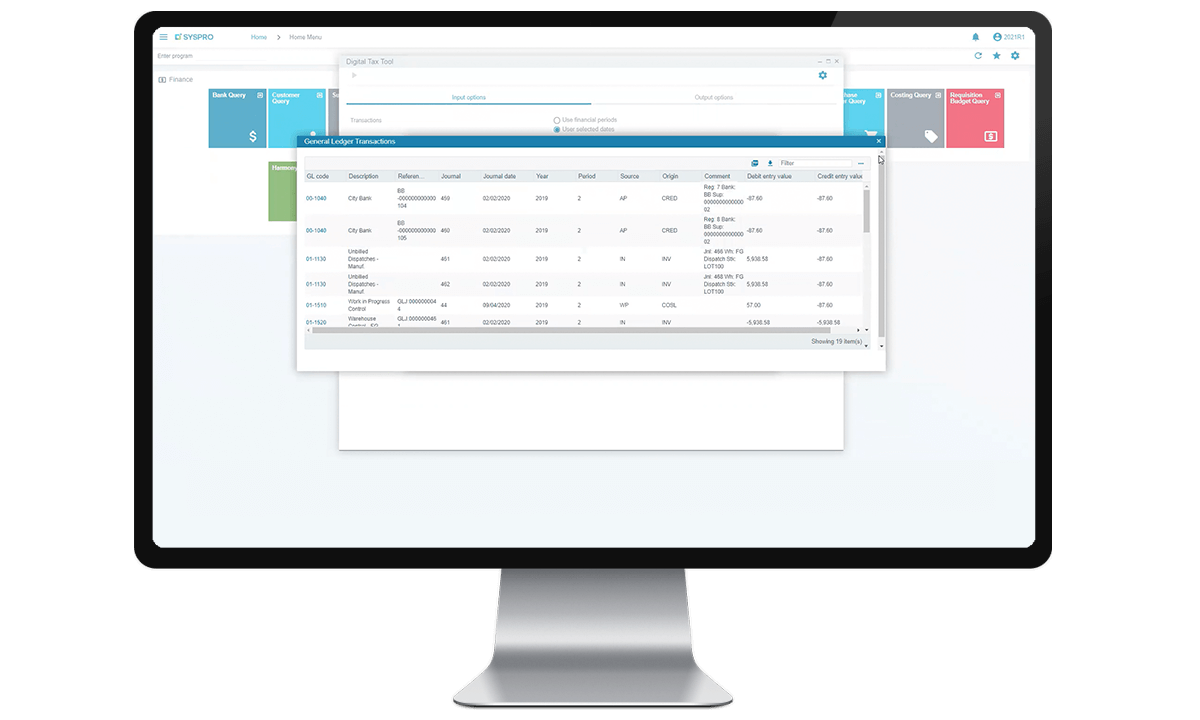 Our ETO customers have realized measurable return on investment in terms of:
Improved sales win ratio
Shorter lead times
Simpler and more precise quotations
Lower costs
Increased staff productivity
Reduced engineering times
Fewer errors
Improved profitability
Engineer to Order Software
The following are just a few of the ways SYSPRO ERP software can benefit companies in an engineer-to-order manufacturing environment:
Improve Product Design and Configure Price Quote
Import facilities and SYSPRO e.net Solutions facilitate enable your customers to collaborate with you electronically on the creation of custom designs.
SYSPRO integrates with CAD/CAM systems so you can import and export multi-level bills of material from and to the design models. This improves efficiency and reduces the potential for error due to double data entry. And, it provides a solid basis to help you calculate costs, prices and lead times for quotations.
SYSPRO's Bill of Material and Engineering Change Control applications help you improve control over product development and re-versioning activities. In addition, you can generate accurate quotes, fast using SYSPRO's Product Configurator, as well as estimating and Configure-Price-Quote (CPQ) features.
Streamline Purchasing and Control Inventory
Ensure fast and secure communication of purchase orders to suppliers around the globe with our purchase order and blanket purchase order functionality, as well as SYSPRO's electronic collaboration tools.
Forecasting and re-order point mechanisms, along with flexible replenishment rules, enable you to hedge against unpredictable supply of longer lead time raw materials.
Material Requirements Planning and Advanced Trial Kitting enable you to calculate what you need and when you need it, taking into account the configured sources of demand and supply, lead times, current inventory levels and order policies.
Accelerate Production Schedules
With SYSPRO MES, powered by LYNQ, you can maintain accurate and up-to-date production schedules that take account of your material plans and the complexities of your factory. This enables better co-ordination between work centers, increased productivity, reduced work-in-progress and achievement of improved customer service levels.
The Work in Progress module enables the capture, costing and tracking of time, materials and overheads consumed in production.
For complex long-cycle projects, SYSPRO's Projects and Contracts module provides the insights you need to analyze activities and costs in detail and by user-defined section. Get instant fine-grained visibility into project cost performance, including sunk costs and cost reimbursement values, and evaluate activity by development phase, as well as own-versus-collaborative efforts.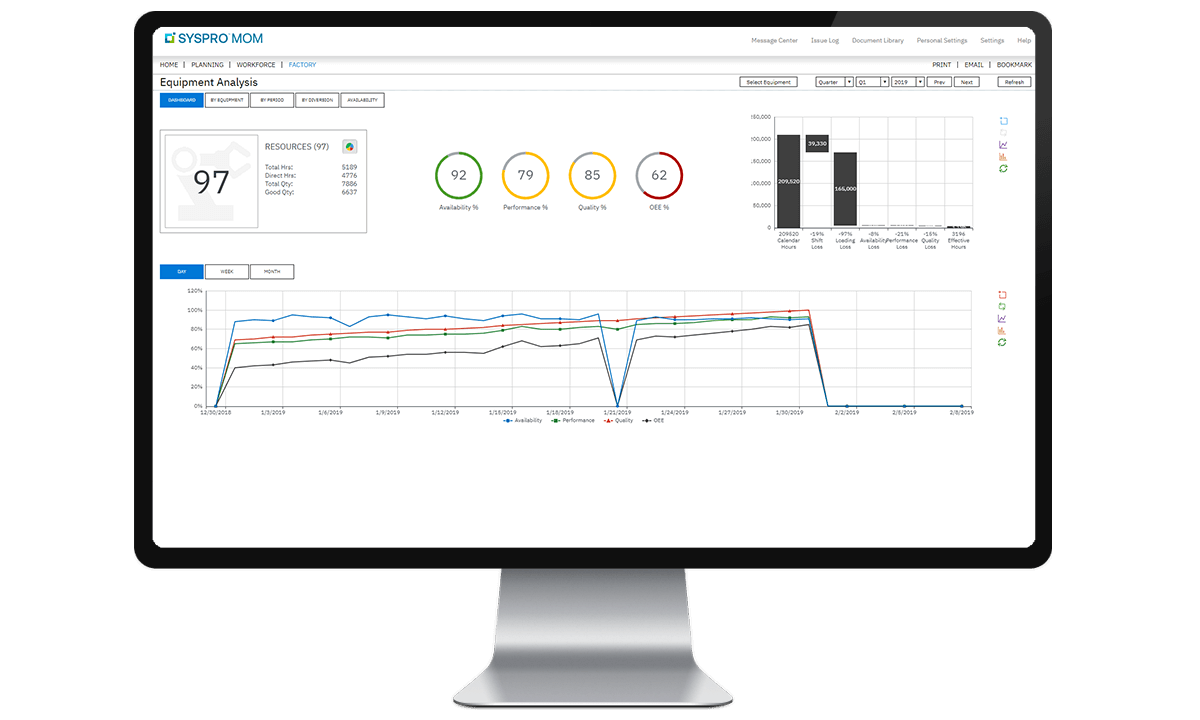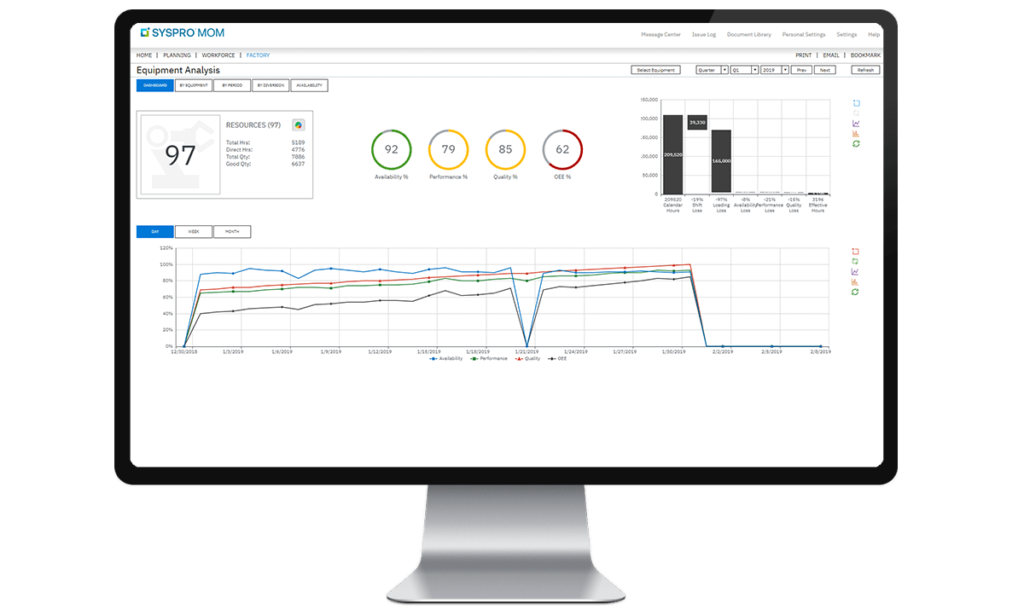 Improving profitability in engineer-to-order manufacturing
In Engineer-To-Order manufacturing, you're always fighting the clock. If it takes too long to develop accurate engineering designs and models, or parts sit too long in your warehouse, the result can be lost sales and profits. SYSPRO has decades of experience helping organizations accelerate time to market.
Find out how we can help you, too.
Lets work together to create positive change in your business
Get in touch to find out how SYSPRO can assist you and your business today